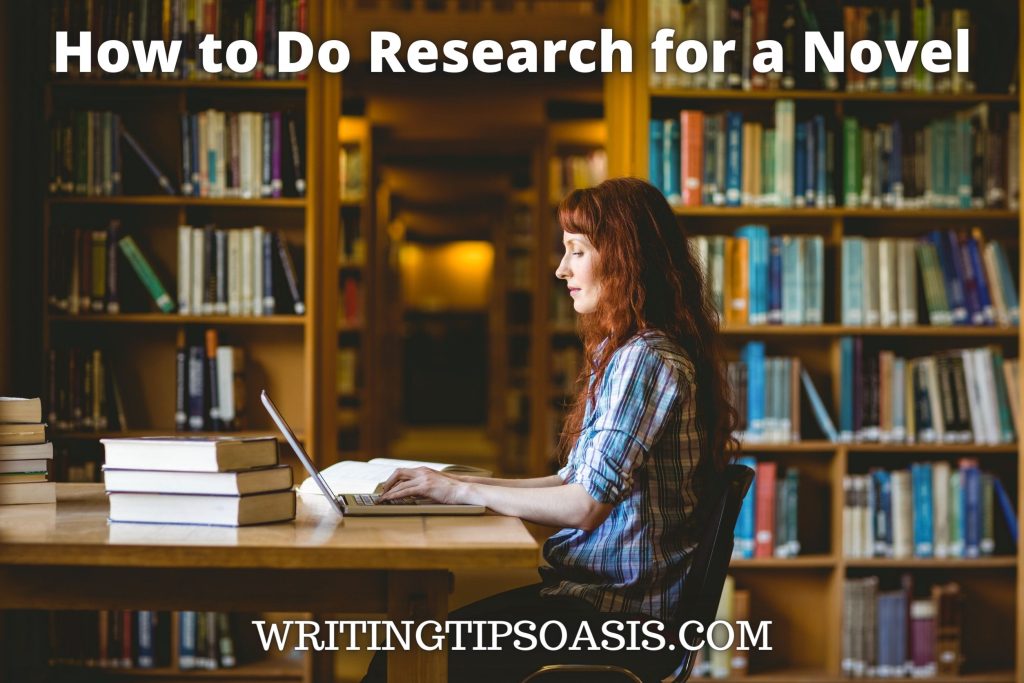 Whatever genre of novel you're writing, it's highly likely you'll need to carry out some research. In this post, we explain how to do research for a novel.
1. Know what you need to research
Before you embark on doing research specifically for your novel, you should have decided about:
The genre (contemporary, historical, romance, science fiction, fantasy);
The characters (their ages, profession, a summarized biography);
The plots and the subplots.
Making those decisions prior to doing any research will enable you to know what precisely you need to research. Otherwise, you will end up combing through a lot of information without any direction. In turn, this will probably lead you to spend way too much on the research process and delay the actual writing of the novel.
For example, let's say that you want to write a historical fiction novel set in the Medieval era. Unless you specifically decide on the century and year(s) the novel is set in, you will be combing through centuries of information needlessly.
In another example, let's say that you wish to write a fantasy novel inspired by the Mesopotamian era. Instead of choosing a century, here you will have to research the whole era very thoroughly and decide how you are going to build the fantasy world in your novel.
2. Organize all the information
At its core, researching a certain topic/time period for a novel means sifting through a lot of information and determining what information is relevant to you. Because of that, you should prepare how you will organize the information that you will determine is important for your novel.
The easiest way to organize is to create folders (both paper and electronically on your computer), and label them with Plot, Subplots, Characters, Worldbuilding. In each folder, you will keep the information you need in relation to the name of the folder.
Further divisions and folders would depend on the plans you have for your novel. You can have a subfolder for the protagonist, then major characters, then minor characters. In your Plot folder, if you are writing a murder mystery novel, for example, you might have a subfolder titled Crime, Murder weapon, and so forth.
Keeping all the information you determine as relevant divided and organized will help you to be able to easily find any details during the writing process. In the folders, you can also include anything from pictures, to videos, to text that you determine is important.
3. Research the genre
Each genre has its own tropes, stereotypes, expected storylines, and general markings. For example, a romance novel needs to have a happy ending (either happy for now or a happily ever after). A science fiction novel needs to be based on science that has advanced but in a realistic manner.
For example, in the Golden Age of science fiction in early to mid-twentieth century, when nuclear power was just being discovered, a lot of science fiction authors of the time used nuclear power for just about anything in their stories, from faster-than-light travel, to weapons and personal shields. Such use wouldn't stand as scientific today when we know the ramifications of nuclear power, the ensuing radiation, and the consequences of using it.
There are sources on the internet, most notably the TV tropes website where you can research the tropes, clichés, and stereotypes of just about any genre, and you can also see how these tropes appear in all sorts of media, from novels to movies, TV shows, anime and manga, comic books, and more.
Knowing the tropes (character types, clichés, stereotypes, plot lines, etc.) of the genre you wish to write in will help you to provide a more original take on said tropes (or clichés, etc.) and make your novel more original, by presenting your own interpretation of the same.
4. Carry out psychology research
Psychology research is a basic due diligence type of research that you need to do in order to create believable characters. We are all shaped, one way or another, by our upbringing and our experiences in life, and the same applies to your characters. The way a character has been raised in their formative years will have an effect on who they are when the novel starts, but it will also have an effect on how they develop over the course of the novel.
Beyond this, there is also the possibility that you might wish to tackle a difficult topic in your novel – like the consequences of trauma of any kind, from loss, to grief, to more difficult topics like abuse and rape. Doing research in psychology will enable you to create more realistic characters in terms of how they react to the traumatic event, as well as how they deal with it.
Otherwise, you might end up creating characters that have had certain life experiences that should have shaped them in a certain way, and yet they act completely differently. For example, someone who was orphaned at a young age not showing any signs as an adult of abandonment issues. Or, an even worse case, when for example, a character has been kidnapped, abused, and kept in a room for more than a decade, and as soon as they are out, they suffer no psychological consequences, like PTSD.
Of course, each person is unique, and each person will react differently to different things, but doing the due diligence research into psychology will help you to create your characters in a more realistic manner.
5. Use the library and the internet
A library should be your first step when beginning research for your novel, simply because you will be able to gain access to a lot of written material as well as public records (depending on the library). Additionally, a librarian would be able to help you on the topic at hand and probably recommend some sources (books, newspapers) that would save you time when doing the research.
The internet is also an incredible tool because there is a lot of information available. If some materials are not available at your local library, you could potentially be able to find them online. A lot of libraries these days also have a digital version (where digital versions of the books are available from their online systems), so if some materials are not available physically at your local library, you might be able to get them from an online one.
On the internet, you will be able to find material of any type – from written material (eBooks, newspaper reports, interviews), to documentaries, amateur YouTube videos on a certain topic, to news reports, ads, and other content in video format, both from times before and after the internet was available worldwide.
6. Talk to people and visit online forums
Talking to people is a very important part of the research process. Writers in general tend to have a vast variety of knowledge on a lot of topics, but that knowledge never crosses over into professional knowledge. As the saying goes, "Jack of all trades, master of nothing", and that is very true for writers.
So, you want to have your protagonist be a doctor? Talk to a doctor who works at a hospital. Ask them about their days, their working hours, the crises they face at work. One of your characters is a lawyer? Try to talk to a lawyer. Talk to a psychologist or a therapist if you wish to have a character dealing with trauma. Talk to a detective or a police chief if you're writing a police procedural. If you're writing about a person who goes missing, talk to a professional to understand what the usual police process would be like.
The list goes and on and on. Of course, you might not be able to talk to these people in real life. That is where online forums come in.
Online forums are a specific corner on the internet, on websites like Reddit and others, where people go and comment on a variety of topics. Visiting online forums can help you find information on human experiences – with trauma, with addiction, with psychological disorders like ADHD, OCD, anxiety, and more.
You can also find posts and comments from people describing their jobs, professions, and daily lives too. You will be able to find information on what it's like to be a waitress, a doctor, an astrophysicist, an astronaut, and anything and everything in between. You can also try to get in touch over the internet with some of the people who have posted or commented, and see if they would be interested to talk with you directly.
However, please note that when it comes to forums, you should treat information gleaned from online posts and comments with a grain of salt. Anyone can go on the internet and comment on forums, pretending to be a doctor or a veterinarian. So, use the information carefully and with some trepidation.
7. Visit or virtually view real life places
Your novel might be set in the town or city where you've lived for most of your life, currently live in, or have visited before. But, it might also be set in a city where you have never been. Unless you ensure to research the place properly, chances are you will not describe the place as it is.
Additionally, you might need to set a part of your novel in a museum or a real life place, like the Vatican for example, the Louvre Museum, the Palace of Versailles, or the Grand Canyon.
It is always advisable to visit the place if you can. This can be a luxury and you might not be able to afford the travel expenses. You might not even gain access to some parts of a certain museum even if you pay for the most expensive ticket.
Again, the internet comes to the rescue here. Google Maps has street view – an option to view the area from a ground point of view. Of course, this is not strictly available for every place of the world, but it is available for a lot of places, from big cities, to remote islands and deserts – you can even take a virtual trek of the Grand Canyon.
Additionally, a lot of places also might offer virtual tours (in video format) of the premises, which can help you get a good idea of the layout of a museum, the sections, the displayed pieces, and more.